MrFlag® is Wales' original* and best known** flag brand.
Registered with the Flag Institute in 1992 (and originally a tongue-in-cheek reference to owner Charles Ashburner) the name first took 'flesh' as a flag-wielding Roman centurion for the launch of the brand's first eCommerce site in 1995; the UK's very first online flag shop.

By the start of 2001 the Roman centurion had been replaced by a John Bull character and the MrFlag brand – now using the www.mrflag.com domain – started going from strength to strength.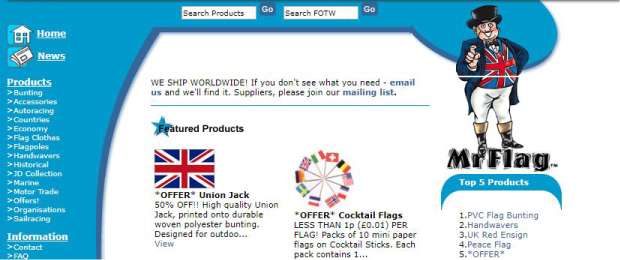 In 2004 MrFlag was listed by the Wales on Sunday newspaper as one of eleven top Welsh brands, alongside names such as the Millennium Stadium, Ty Nant water, Kelloggs, Groggs, Femidom, and Montagne Jeunesse.
In 2007 the third MrFlag character was created to coincide with the first formal registration of a MrFlag trademark UK00002452343.
Additional registrations UK00002631815 followed in 2012, with protection for the #forpeoplewithwind Twitter hashtag (UK00003050829) coming in 2014.
The current logo has been in use since November 2013.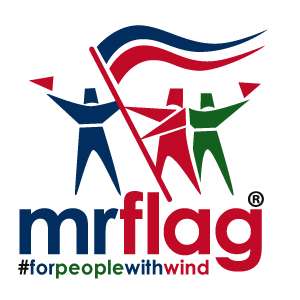 MrFlag® is Wales' longest registered trade member of the Flag Institute***
The brand is privately owned in Wales by its creator Charles Ashburner, and is currently operated under licence by 1415 Limited.
*Based on registration with Flag Institute (1992), use on an eCommerce website (1995), widespread usage of the name MrFlag (2001), acclamation of brand by Wales on Sunday (2004), first registration of trademark (2007), and subsequent trademark registrations (2012).
**Based on the number of Facebook likes, Twitter followers and tweets, and local press coverage received.
*** Source: The Flag Institute, 21 May 2019.