MrFlag®: Wales' Original and Oldest Flag Brand
Registered with the Flag Institute since 1992, and originally a tongue-in-cheek reference to owner Charles Ashburner MrFlag™ first took flesh as a flag-wielding Roman centurion for the launch of the brand's first eCommerce site in 1995; the UK's very first online flag shop.
By the start of 2001 the Roman centurion had been replaced by a John Bull character and the MrFlag™ brand – now using the mrflag.com domain – started going from strength to strength.
In 2004 MrFlag™ was listed by the Wales on Sunday newspaper as one of eleven top Welsh brands, alongside names such as the Millennium Stadium, Ty Nant water, Kelloggs, Groggs, Femidom, and Montagne Jeunesse.
In 2007 the third MrFlag™ character was created to coincide with the first formal registration of a MrFlag® trademark UK00002452343.
Additional registrations for MrFlag® and MrFlags® UK00002631815 followed in 2012, with protection for the #forpeoplewithwind® Twitter hashtag (UK00003050829) coming in 2014, and the Social Flag Project® (UK00003174528) in 2016. MrsFlag® (UK00003197875) was registered in 2017 to protect the name from misuse by an unscrupulous trader.
The current logo has been in use since November 2013.
We believe we were the first UK flag company to use Twitter (Feb 2009). We've been on Facebook since 2011 and Instagram since 2015.

We became the UK's first online flag retailer in 1995.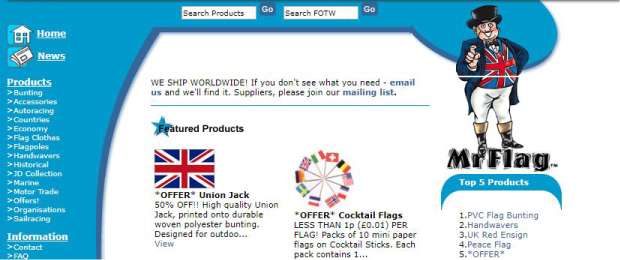 By 2001 we had become MrFlag.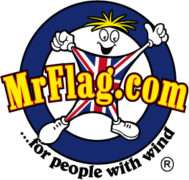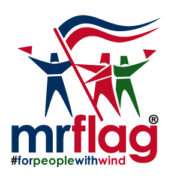 MrFlag®: Wales' Best Known Flag Brand
Our Facebook page has almost 5 times as many likes as any other Welsh flagmaker. 10,160 likes vs 2,257 (6 August 2020), down from 10,304 vs 2,147 (20 October 2019).
Our Twitter feed has more than 8 times the followers of any other Welsh flagmaker. 8,507 followers vs 1,053 (6 August 2020), up from 7,580 vs 1,052 (20 October 2019).
MrFlag® is referenced in the definitive The Red Dragon: The story of the Welsh Flag by Siôn Jobbins [ Y Lolfa Cyf  | 18 Feb. 2016 | ISBN-10: 1784611352]
A Google news search for the term MrFlag results in 152 flag-related news articles (6 August 2020) across almost all Western hemisphere countries and almost all major news platforms. A Google news search of MrFlag's owner Charles Ashburner returns 230+ flag-related news articles (6 August 2020) across all countries and major news platforms.
Based on a comparative analysis of the preceding 28 days (conducted 22 October 2019) MrFlag® clocked 1425 reactions+comments+shares on Twitter, compared to 48 for the next most active flagmaker in Wales over the same period.
The MrFlag® brand and name is so well known globally that it has been stolen and is currently being used (along with a version of our 2007 logo) by a flag shop in Irbil, Iraq. They are unconnected to us, but as they appear to be directing people to our website we have not yet taken any action to prevent it.
MrFlag® is an independent, 100% Welsh-owned and Welsh-based, flag brand created and owned by husband and wife team Charles Ashburner FFI and Jo Ashburner, MA (CBT) BA(Hons) 1st Class and operated under licence by 1415 Limited.
MrFlag® is the only flagmaker in the World operated by a Fellow of the Flag Institute.
MrFlag®: The UK's Top Ranked Flag Brand
MrFlag® are rated 4.9/5 from 1084 reviews since April 2018 on Trustpilot, with 99% of reviews 'Excellent' or 'Great' (24 March 2023)
MrFlag® are rated 4.7/5 from 105 reviews on Facebook, compared to 3.7/5 from 85 reviews for the next highest ranked flagmaker in Wales. (19 January 2021)
Specialist Retailer of the Year (Cardiff Prestige Awards 2020).
Best Customised Flag Retailer (AI's Business Excellence Awards 2019).
Flag Store of the Year (Corporate LiveWire Global Awards 2019).
Online Flag Retailer of the Year (Welsh Enterprise Awards 2018 & 2019).
Official Flagmaker of Wales & The Welsh (AUOB Cymru 2019 & 2020).
Official Flagmaker of Prides Across Wales (Pride Cymru 2020)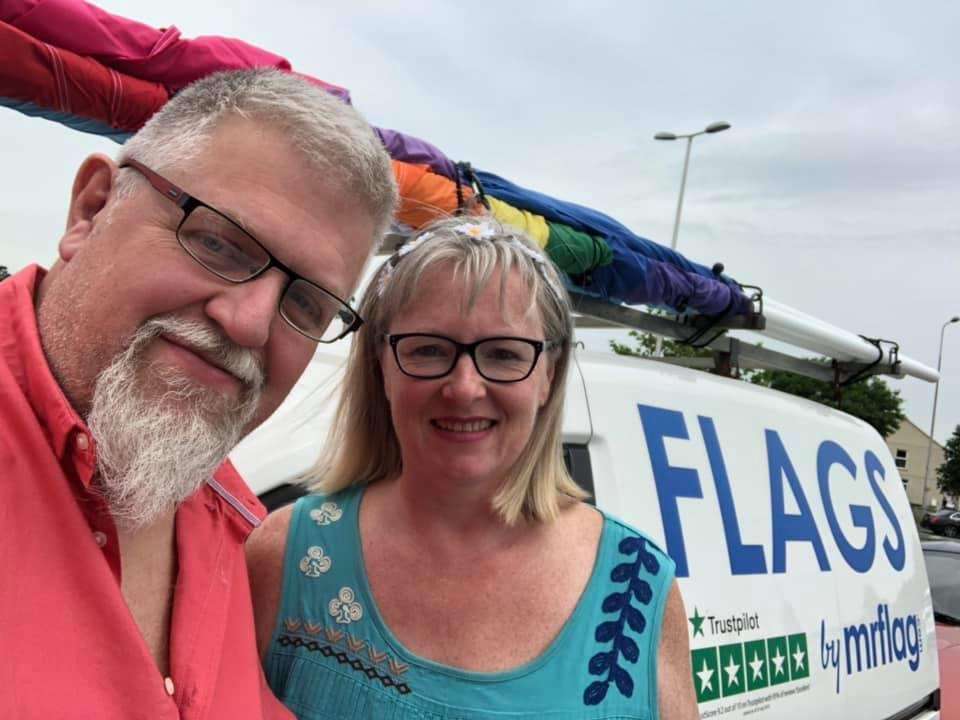 Charles and Jo Ashburner
MrFlag®: Wales' SEXIEST Flag Brand