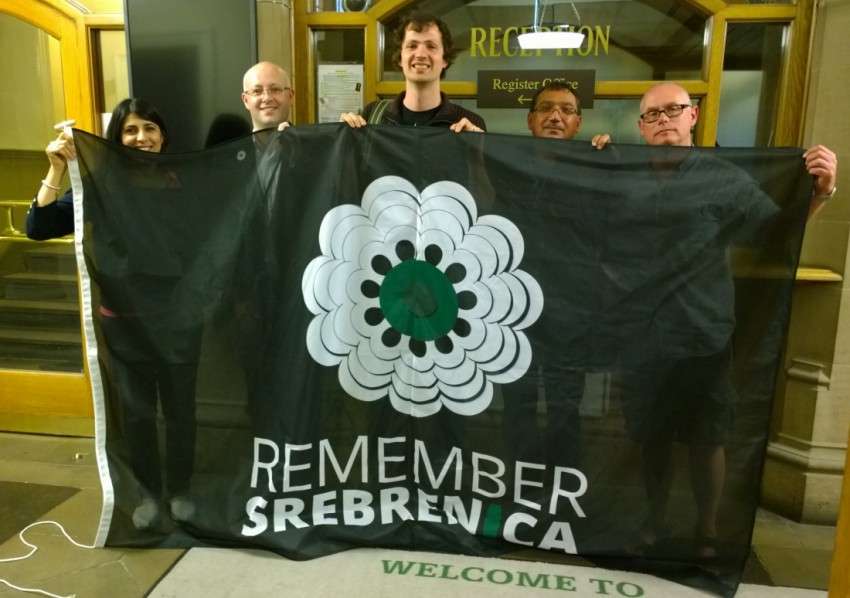 Bradford City Council flies the flag in 2015.
We're delighted to be working with Remembering Srebrenica for another year to bring you high quality flags to help raise awareness of the genocide which occurred on our own doorstep, in Bosnia, in the 1990's.
Whatever size flag you need – whatever fittings suit you best – we can help.
Remembering Srebrenica raises awareness of the genocide in the UK. It organises the UK Srebrenica Memorial Week, which leads up to the EU-wide day of remembrance for the victims of the genocide, Srebrenica Memorial Day, on 11 July.
It also runs the 'Lessons from Srebrenica' educational visit programme to learn from the genocide and people's lives. On return to the UK, delegates pledge to organise projects in their communities to strengthen community cohesion and create a better society.
Remembering Srebrenica Flag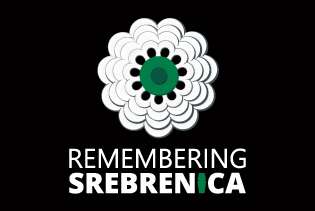 From Wales to West Yorkshire – flagging Srebrenica's story.
Swansea-based Charles Ashburner – AKA MrFlag – has made the four square metre (2.5m x 1.68m) flag which bears the iconic Srebrenica flower and the words Remember Srebrenica. MrFlag's flag will fly from Bradford City Hall during Srebrenica Memorial Week, in July, as part of the Council's commemorations to honour victims of the Srebrenica genocide in the 20th anniversary of the atrocity.
Bradford Councillor Alex Ross-Shaw got to know 'MrFlag' through social media, after the business made the flags in 2010 for the 'Wage Concern' campaign to protect the minimum wage that started in West Yorkshire.
Working with Remembering Srebrenica – the UK charitable initiative which organises events across the country to keep alive the story of Srebrenica – councillors and community leaders from across West Yorkshire are planning a memorial event at the City Hall on Saturday 4 July.
MrFlag owner Charles Ashburner said: "Flags can make people think and feel, and there is no doubt that the story of Srebrenica is one which deserves that. It deserves remembering.
I'm privileged to be able to make amazing flags for incredible people every day, but as with much else in life it is sometimes the things we do for free which make us most proud."
Remembering Srebrenica Chairman Dr Waqar Azmi OBE said: "This year is the 20th anniversary of the genocide that occurred in Srebrenica – the single greatest atrocity committed on European soil since the Second World War and a brutal reminder of man's inhumanity to man.
"Mr Ashburner's generous gift to the city will help to raise awareness of Srebrenica among people in West Yorkshire. Our volunteers are working hard to inspire people to tackle hatred, build stronger, more cohesive communities and ensure Srebrenica is never forgotten."