"On 21st March this year I was on the call-sheet for Castle Productions' *Additional Photography Shoot* on-set at Highclere Castle, with Elizabeth McGovern, and Tuppence Middleton.

On the day's scene list were:
Establisher through foliage to reveal Downton Abbey
Close-up: Chetwode's [redacted to avoid spoiler].
Cora speaks with Edith on the phone.
Close up: Raking.
Close up: Mowing.
Close up. Building details.
The Royal Standard is raised and unfurls in the wind.
Branson POV of Lucy through window – just before they dance.
The producers wanted to borrow an original Royal Standard that I wouldn't sell to them, so I and a friend were invited to Highclere Castle for the day – with the flag.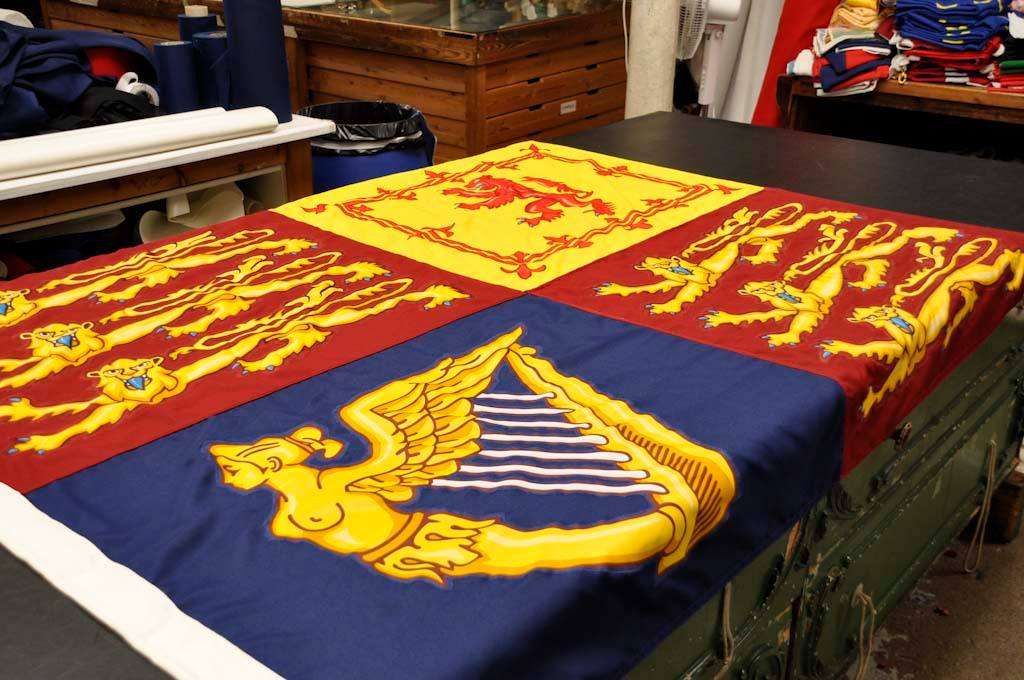 Our Royal Standard - filmed for the Downton Abbeymovie

I was booked for scene 7 of 8, so most of the day was spent wandering around the grounds, sharing catering hospitality with the artistes and crew, and wondering how I was ever going to deliver my flag to the top of the enormously high tower atop the castle.

A short time after lunch there was a flurry of activity on the Village Green a couple of hundred yards from our trailer. Someone was erecting a flagpole on a portable concrete base – so we wandered over to have a look. It turned out that this was where the flag would actually be hoisted, much to my relief.

We watched as all manner of crew came and went and the flagpole was repainted (with fantastically quick drying paint). I was eventually asked to attach the Royal Standard to the flagpole while the Assistant Directors and sound crews all set up around me.

Giles Barron (one of the Assistant Directors) came over and introduced himself and we had a brief chat. I commented that there probably wasn't enough wind for such a heavy flag, and he assured me there would be. Sure enough, 3 or 4 minutes later the wind arrived on the back of a lorry and set up on a massive self-propelled platform next to the flagpole.

It was all jolly exciting. But not as exciting as when the Director, having checked that all the crew elements around me were ready, called "Charles – ACTION!". 
I then spent the next 40 minutes hoisting and lowering the Royal Standard at different speeds. About half-way through I asked for another pair of hands to hold the up-going halyard taut while I hauled the other side down, and someone was immediately provided.

Then suddenly it was all over. The Director called 'wrap', and in the time it took for him to come over and shake my hand goodbye all the desks and equipment and special effects and people just melted away and suddenly my friend and I were just stood there on our own again holding the flag.

It was a lovely day out and a slightly bewildering experience, but if you DO go and see the Downton Abbey Movie… remember: it's me hoisting that Royal Standard!"

by Charles Ashburner, 2019